2 June 2006
I'm terrible at introductions, so feel free to ask me anything you want to know.
As you've already guessed, my name is Jessy.  I'm a work-at-home mom with two children.  Rylie is three and a half years old, and Ronin is nearly four months.  We live with their dad, Michael, on a small farm in New Jersey.  In a couple of weeks, we'll be adding a trio of fainting goats to our family.
When it comes to hobbies, we enjoy some pretty typical things.  We all go to the movies a lot (even the baby), and when it's warm and sunny, you can almost always find us swimming at the pool in my mom's neighborhood.  I also like to cook, and although Michael is a picky eater, my daughter is always happy to join me in trying new things.  Oh, and I take lots of silly pictures, so if you want to look at some adorable kids, you've come to the right place.
In fact, here's a pic to get you started.  This one is from yesterday morning.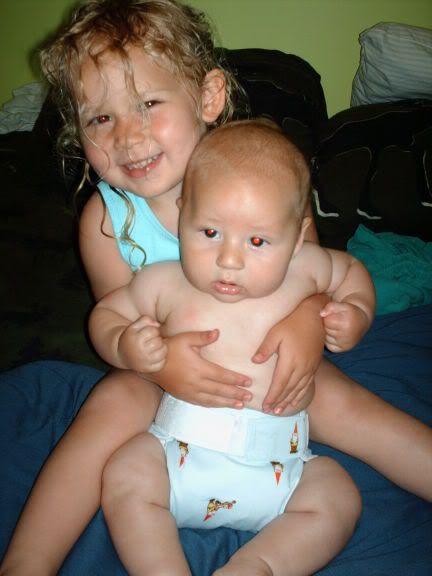 jessy @ 20:11 | comments(0) | Permanent link